Reading Exercises For Concert Band, Book 2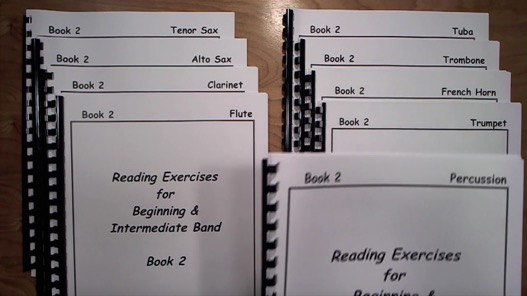 This book continues where Book 1 leaves off, offering 220 short sequential unison exercises for use in Concert Band. Topics include Tied Rhythms, 8th-Quarter-8th rhythms, 8th- and Quarter-note Triplets, 16th notes and 8th-16th combinations (4 16th, 8th-2 16th, 2 16th-8th, dotted 8th-16th, 16th-dotted 8th, 16th-8th-16th) key of Ab Major and Range Exercises.


Each volume is $13.00 except for the Percussion book, which is $16.00.


The Table of Contents is included here so you can get an overview of the Meter(s), Key(s) and Rhythms or Concepts included:


Reading EX2 ToC

Want to watch a YouTube video that gives a solid browse through Book 2?
click here —>
RE BOOK 2 VIDEO
Reading Exercises Book 2 - Flute
Reading Exercises Book 2 - Clarinet
Reading Exercises Book 2 - Alto/Bari Sax
Reading Exercises Book 2 - Tenor Sax
Reading Exercises Book 2 - Trumpet
Reading Exercises Book 2 - F Horn
Reading Exercises Book 2 - Trombone
Reading Exercises Book 2 - Tuba
Reading Exercises Book 2 - Percussion