Reading Exercises For Concert Band, Book 1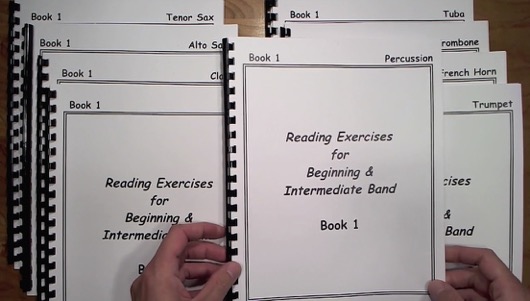 This book contains 309 one-line sequential unison exercises for Concert band. By playing a few exercises at each band rehearsal, the reading skills of the band will improve and it will take students less time to learn new music. This book is recommended for first year band students (probably toward the end of the school year) through the end of the second year of study. This book is also great for Solo Festival sightreading practice!


Each volume is $15.00 except for the Percussion book, which is $18.00.
If you'd like to order a set for the students at your school,
order forms
can be downloaded and printed
here
.
I accept school Purchase Orders.
The Table of Contents is included here so you can get an overview of the Meter(s), Key(s) and Rhythms or Concepts included:


Reading EX1 ToC

Want to watch a YouTube video that gives a solid browse through Book 1?
click here —>
RE BOOK 1 VIDEO
Reading Exercises Book 1 - Flute

Reading Exercises Book 1 - Clarinet
Reading Exercises Book 1 - Alto/Bari Sax
Reading Exercises Book 1 - Tenor Sax
Reading Exercises Book 1 - Trumpet
Reading Exercises Book 1 - F Horn
Reading Exercises Book 1 - Trombone
Reading Exercises Book 1 - Tuba
Reading Exercises Book 1 - Percussion