THE CLASSIC SWING HEPTET
Big Band Sound at a Small Band Price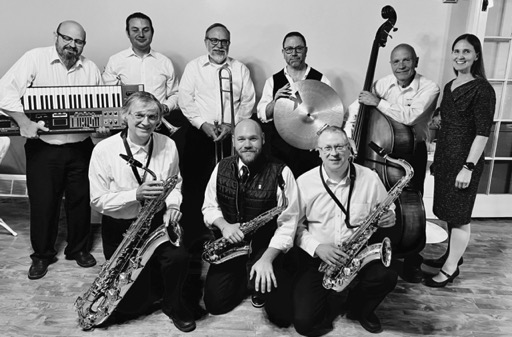 The
Classic Swing Heptet
is a 9-member band consisting of 3 saxophones, trumpet , trombone, piano, bass, drums, and vocalist. The band plays repertoire drawing primarily from the Swing Era, but is capable of playing a wide variety of music due to the depth and breadth of its skilled musicians. This band was formed in 2019 by members of the
Big Band Sounds
in order to bring jazz to smaller venues in which the 15-member BBS group would not fit.

The 'Heptet can sound like a Big Band due to its full-sounding arrangements, but then it can switch gears to create the mellow sounds of the Cool Jazz Era. The group features a wide range of intensity, from the sound of the full group playing dance music from the Swing Era to a relaxed vibe of background music from a jazz trio or quartet. Herein lies one of the advantages of hiring this group for your event -- its flexibility!

The CSH song list includes many of the great tunes made famous by the bands of Glenn Miller, Benny Goodman, Woody Herman, Count Basie, Duke Ellington, Frank Sinatra, and others, and continues to add arrangements of today's music.

The Classic Swing Heptet is available to perform at private parties, weddings, anniversaries, festivals, and jazz concerts, including venues in Northern, Central, and Southern New York. CSH is also a popular choice of dance clubs who enjoy Ballroom Dance due to the variety of latin styles, polkas, waltzes, and fox trots available in our music library.

For more information, please see our website listed on our business card, and contact Bill Pomares to learn about availability and rates.
contact Bill Pomares at (607) 316-0422 (call/text)
bandsolution.net@gmail.com


audio clips & video coming soon!
Jazz Quartet Jazz Trio Jazz Duo Solo Piano Wedding Band Cocktail Music
Chenango County Otsego County Norwich Oneonta Herkimer Binghamton New Hartford
Dan Martin Trombone Drum Set Tim Iversen piano Tom Ives acoustic bass electric bass trumpet Vestal